A History of the Plague
by Mike Johnson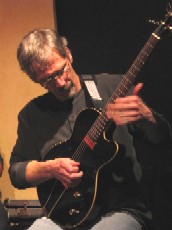 Thinking Plague is a musical group - perhaps enterprise is a better word – that has been in existence since roughly 1982. Our music has always been difficult to describe in words. One of our older band "bio sheets" begins:
Thinking Plague is a musical group from Colorado that explores the frontiers where rock, folk, jazz and modern symphonic music meet. Through these explorations, the band has created "a genre of music unto itself, eclectically derivative in a bold way and spectacularly innovative in the old-fashioned sense of genuine originality" (Andy Watson - Journal Wired Summer/Fall 1990). Thinking Plague's music combines lyricism with intense and sophisticated rhythmic and harmonic ideas. Their influences cover a spectrum ranging from Beatles and Byrds to Henry Cow and William Schuman. At moments the sound of Thinking Plague may begin to resemble pop or jazz music only to be stretched or "morphed" in the next instant into new regions that often defy categorization. The songs have often been compared to modern film music (with vocals), and can seem like journeys through an inner world….
That must suffice as a basic introduction. The band's existence and activity has always been a changeable thing, alternating between periods of intense writing, rehearsing, recording, performing and quite a lot of incubation and hibernation. The main reason for this "un-band-like" career is the virtual impossibility of the member musicians generating sufficient income from TP alone to support themselves – a condition of existence about which we could complain endlessly, and to no avail. We do know that we are nevertheless fortunate to have a very widespread, if not too huge, following of dedicated fans and supporters, who really do appreciate our music. But as a result of our apparent "inaccessibility" for the average listener, TP band members have always been forced to work at day jobs (some more successfully than others), and/or have struggled to make a living from other less …um ... "commercially challenged" musical endeavors, ranging from teaching to commercial session work to itinerant cover bands. All have played in various other groups and "projects", sometimes achieving a level of notoriety and relative success. None has ever made any kind of appreciable profit from Thinking Plague's record sales, performance royalties or fees from shows. Most of the proceeds have gone back into the band, recording and musical equipment, and the repayment of advances from record labels.
Despite this disappointing state of aesthetic affairs in the world, with the exception of a couple brief spells, some kind of core group of highly talented musicians has always remained dedicated to being a part of Thinking Plague. They have done so strictly out of the desire to help create and to perform engaging new music that requires a different sensibility and a high level of musicianship. They are friends and colleagues, and their work in Thinking Plague has truly been a labor of love, taken on in addition to numerous other responsibilities. As the so-called "leader" and only founding member of the band still remaining, I want to thank them from the depths of my soul for indulging my musical obsession.
For those who are interested in how the Plague came to be, and evolved over the years, here is a little history:
Early days: "the spawning…"
Beginning in about 1980, what was to become Thinking Plague grew out of the basement recording experiments of then bassist, drummer and home-recording savant Bob Drake and myself, a self-taught "progressive rock" guitarist and "composer". Bob and I had met in 1978 and played in various cover bands and other stranger groupings. By 1982 we formed an ensemble to attempt to execute our song ideas in front of audiences. We brought in some friends, the classically trained Sharon Bradford on vocals, a well-known luthier (and actually bass player) Harry Fleishman on keyboards, and a old school mate of mine, Rick Arsenault, on drums. This ensemble had a smattering of typically poorly received performances in Denver in 1983, including at the so-called "Jack Kerouac Festival" at Denver's Mercury Cafe. Poet Allen Ginsberg came up to me after our set there and said, "Wow! Like Stravinsky with a drum beat!" The usual response, however, consisted of impassioned calls for the next band, catcalls, and girls shouting "Go home!" It seems Denver was not ready for the Plague…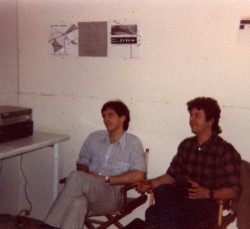 So after dispensing with our attempts at live performance, Bob and I pursued the recording of an album of our material with Sharon as vocalist, Harry as some-time pianist/organist and everything else done by Bob and myself. The recording took place at a friend's modest 8-track facility, called Packing House Studios, in the stockyards area of north Denver. It was in the stained and dismal basement of an old Armor Star Meats building, a weird space in which to spend the wee hours, which were all we could afford, making odd music. It took most of a year of sporadic late night sessions before we could complete the tracking and mixing. Then we spent some months with master tape in hand not knowing precisely how to proceed.
Eventually, we decided to just force things to happen on our own, regardless of the meagerness of scale and cheapness of pressing and packaging. Using scraped and borrowed funds, we released our first LP,A Thinking Plague, in 1984 on our own Endemic label. This first and only vinyl pressing was a mere 500 LPs. Each cover was spray-painted with a stencil by Bob, with a mosquito on the one side and a "bug" on the other! (They were terribly "cheap", with paint able to be scratched off with your nail, but now they appear to be collectors' items!) We were amazed when distributors, especially Wayside and Recommended, actually agreed to sell the record, and all but a few "defect" copies were dispatched out into the world. And despite the small scale and "low-tech" DIY quality of the release, A Thinking Plague was well received by critics (Option, Sound Choice, and others) and the seeds of Thinking Plague's reputation were planted among avant rock/RIO listeners.
Larval phase: "High tech/low tech"
Intent on making more powerful recordings and dissatisfied with the capabilities of that first lineup, Bob and I had disbanded the "live" group after the less-than-auspicious outings of 1983. After various distractions, including another band project and dealing with the first LP, we began in 1985 to record material for a new album (the Packing House had closed and we were working at a couple "low budget" places in Denver, Reel Audio and mainly Free Reelin' Studios). We wanted to get a more "high tech" sound, but without losing our "low budget" attitude, wherein any kind of cheap equipment or technique could be utilized, if we liked it. We called this "high tech/low tech".
Meanwhile, we needed a new band. We were searching for a new vocalist with the special talents and uniqueness we felt the music needed, one who would contribute a certain new "something". One singer friend, living and performing in Denver at the time, was Jill Sobule, who would later become quite famous as a singer song-writer, particularly with her 1995 MTV hit "I Kissed a Girl". Jill had sung on occasion with another of Bob's band projects the Bruce Odland Big Band (Interestingly TP members Drake, Mark Fuller and Eric Moon – see below – actually worked as Jill's back-up band for a time in 1988 – Eric played on her first CD) In truth, her style was rather too "pop" for the Plague, but she had good vocal pitch control, range and presence. We thought it would work, and would be an interesting juxtaposition. She had actually agreed to sing for TP, when the universe suddenly intervened.
Several years before, Bob and I had had a brief involvement with an unusual young singer-song writer named Susanne Lewis whose background was more in punk or underground. Her clear, unaffected singing style was definitely unique and her ear was excellent. So at about the moment Jill Sobule was ready to take the "gig", Susanne (re)appeared in Denver, having been living in London for a year or so. Bob immediately recommended Susanne, and she agreed to sing for Thinking Plague. The lineup was completed with another Denver friend Mark Fuller on drums and Eric Moon (aka Jacobson) on keyboards.
The recording project began with our updated recording of an "old" song called Warheads, written as a kind of esoteric protest song in 1980 during the so-called "Iran Hostage Crisis". It had been recorded at least twice before, in a friend's attic on a four-track cassette and with the first band at the Packing House, which we never finished because we felt it just wasn't coming together as we wanted. This time we combined an old Linn Drums machine, that Free Reelin' Studios had, with Mark Fuller's timbales and Simmons Drums, one of the first generation of electronic drums that used pads to trigger synth drum tones. They are famously hokey sounding, but Fuller found ways to make them very much more interesting (he had used them as a "guest artist" on "Thorns of Blue and Red/The War" from A Thinking Plague – there's an unmistakable Simmons snare roll). To this we added Eric's new Yamaha DX 7, a lot of cheap and not-so-cheap effects, and our disregard (or ignorance of) the proper "industry" way to do things, and voila! – "high tech/low tech". The others tunes on the album came either from some "live in the warehouse recordings we made in 1986, a "home recording" by Susanne and Bob, or another studio-made song, Moonsongs. For this we brought in yet another local musician friend, Mark McCoin, to help us create a "tribal" drum ensemble, and also to play his incredibly low-rent Electro-Harmonix "Instant Replay" sampler stomp box connected by a cable to a Casio mini-keyboard. In some ways this song epitomizes our "high tech/low tech" ethic.
In 1986 we released this second Thinking Plague album, Moonsongs. At this stage it was only a cassette release - on Endemic, the very small independent label of another friend Arnie Swenson. This would later become Prolific Records, which would release Corpses as Bedmates, Hail, Ron Miles and Dave Willey's Songs from the Hamster Theatre (available from Wayside Music/Cuneiform Records). Prolific is now defunct, and not to be confused with a much more recent Hip Hop label of the same name. The following year the band signed with Dead Man's Curve Records in London (also now defunct), and Moonsongs was released as an LP, and again distributed by Recommended and Wayside. To our great pleasure, the record was described as "stunning" by Option Magazine and was a critical success – among the few critics then interested in such music - further enhancing Thinking Plague's stature in avant rock circles. Meanwhile, in 1987 pianist/clarinetist Lawrence Haugseth joined the group for a series of live shows at theaters in Denver, one in which we opened for Sonic Youth. After that we began work on the next record.
This life and the next:
By the end of 1987, however, Fuller and Jacobson had left, both feeling the need to pursue more "viable" musical activities (and both ending up in LA for years of frustration, trying to find a niche in the "industry"). Lawrence left a few months later for personal reasons, but not without having established for the first time the need for the woodwinds/reeds sound in Thinking Plague. The band turned to a former Bruce Odland Big Band mate of Bob's, saxophonist Mark Harris, who joined, and made winds (clarinet, saxes and flutes) an important permanent feature of the sound. Another classical player, Shane Hotle, came in on keyboards, and Maria Moran, a young guitar student and friend of mine, came in to play bass, as Bob had chosen to mainly play drums in this new ensemble. (We were hoping with this ensemble to eventually play more shows, but it was not to be.)
For this new line up I wrote a collection of new what I'd call 'art songs', working closely with Susanne Lewis who wrote the lyrics and many of the vocal melodies. Susanne also contributed one of her own songs, "The Guardian", that she felt was more suitable for Plague than for her other project with Bob Drake, Hail, that had evolved from predecessor Corpses as Bedmates.
We had already recorded most of the song Organism with the 1987 live line-up. It had Moon on synth and sampler, and Fuller playing tabla and various African and Balinese percussion instruments. Bob added a track of exotic-sounding "fiddle", which he had recently begun playing (in his own inimitable way). In the mean time, after reforming the group, we went into various studios beginning in early 1988 (including a large rehearsal room we leased in an old Mountain High Yogurt Factory building – affectionately referred to as the Yog). Bob was at the knobs and acting as chief producer, driving impetus and facilitator of the whole recording process. A new album was done by summer of 1988.
It was around then that Chris Cutler (Henry Cow/Art Bears/News from Babel, etc.) came through Denver on tour with Pere Ubu. I came to the show and met with him in the dressing room right before they went on. I gave him a cassette tape of the new album, and he skittered bare-foot out on to the stage to begin the show. Wondrously for us (Bob and I were big ReR fans), within a few weeks Cutler wrote us and invited us to release the new material as the first US-made CD on the ReR/Recommended label. By 1989 this new CD, In This Life, was being widely distributed, and was gaining kudos from aficionados of avant rock from all around the world. Critics liked it. Boston Rock called it "astonishing!". Ear Magazine said, "Thinking Plague has climbed into a niche uniquely its own." This very positive reception of the CD led to an interview and 4 page spread in Option Magazine, the leading independent, avant/underground music magazine at that time. We thought that surely, we had "arrived". We were now on our favorite record label, and were gaining recognition as never before. But, as reality so often does, it intervened just then.
Denouement - premature 'emusiculation':
Just before In This Life was actually released in fall of 1989 Thinking Plague's existence as a performing unit was challenged by the simple demands of life. Susanne Lewis decided to give up on life in Denver and head for New York City to pursue her own musical goals, which included Hail, and eventually Kissyfur and Hail/Snail, among others. So we found ourselves needing a local singer who might be able to replace her. Ironically, the one and only person we tried out was later TP vocalist Deborah Perry, who was recommended to us by Dave Willey, an acquaintance who would also be a TP member years later. Deborah was very keen and did a great job auditioning with Lycanthrope. But we just could not hear what we then wanted to hear, which was Susanne. We realized she was really irreplaceable for us at that time, and decided we had to try to work with Susanne from a distance – which was very difficult for us in those days. Shortly thereafter, having had enough of the starving musician business, and perhaps no longer feeling quite in tune with where TP seemed to be heading (perhaps it is more accurate to say that , in any event, the former issue outweighed the latter), Bob Drake chose to relocate to LA. There he hoped he could make a living as an engineer/producer (which he definitely did for the next 5 years). That was great for him, but it seemed that TP was disintegrating.
But the universe has its agenda, and shortly after getting set up in Hollywood Bob hooked up with Dave Kerman, leader of the 5UUs, one of the world's greatest avant rock groups IMHO. Kerman was a TP fan, and his enthusiasm for the band led to his offering his services as drummer. Despite the distances, the band reformed yet again in 1990 – now with Bob back on bass, Dave on drums, Shane and Mark still in, and Susanne in NYC. Maria had already moved on with other band projects and interests.
Thus began a period of intermittent long-distance rehearsals, limited concerts and some new recording, which continued sporadically for several years. During this time Drake began to work with the 5UUs as vocalist, bassist and guitarist. In 1994 they completed an album which became the milestone CD Hunger's Teeth (ReR). Also, during the same period, Hail recorded the CD Kirk (ReR), and toured Europe with Chris Cutler on drums, and Bill Gilonis (The Work) on guitar. (Hail's first CD, Turn of the Screw (ReR), was recorded prior to their leaving Colorado.)
By 1995 Dave Kerman and Bob Drake were living on an old farm in France owned by Chris Cutler and Henry Cow/Art Bears sound engineer and cover artist E.M. "Maggie" Thomas, which had been converted into Studio Midi Pyrenees (now called Maison Isole). The creation of this studio seems to have been another intervention by the Universe in our collective musical pathways. As Bob recalls it:
"It was an idea we came up with together, me Chris and Maggie. Before I even knew about the house, one day while we were in the car on a tour (Either Hail or Nudes I forget...but I do recall were driving through Pilsen in the Czech Republic) and we were just talking...I told them one of my fantasies was to live in a house in the country somewhere with a lot of recording gear in it. They told me they had this big old house and no one lived there. We talked some more and came up the plan to pool our money and make a studio there, which to make a long story short, we did!"
Thus in their 18th century farmhouse 'music facility', crumbling pleasantly in the bucolic French countryside, they proceeded to record the next 5UU's CD, the amazing Crisis in Clay (the first of many important projects to be produced there).
With Thinking Plague basically on hold, having a couple songs all or partially done and sitting "in the can", I was invited in spring of 1995 to do a live tour of 25 cities in Europe with 5UU's. The band featured Kerman, Drake, Scott Brazieal of Cartoon and PFS on keys and myself on guitar and lap steel.
It was a wonderful opportunity, but turned out to be the last time Drake, Kerman and I performed together. After that tour we all pretty much understood that there was no practical way, and not much impetus, to try to revive Thinking Plague as it had been. I returned to the States, thinking that the Plague might really be history this time.
Death and reanimation - the next next 'life':
In 1996 I joined another kind of off-the-wall avant-progressive band from my neighborhood (Denver-Boulder), Hamster Theatre. I soon came to the realization that not only was Hamster leader Dave Willey a genius, but he was just the guy who could play bass for a new TP (for which I had been writing new material despite the circumstances). And he was interested and willing to take a whack at it. When I asked if he knew a singer, Dave again recommended his old friend Deborah Perry, then living in Portland. I was skeptical, based on my recollection of 7 years before – rightly or wrongly. But with Dave's strong recommendation, I decided there was no reason not to give her a shot. She was willing to try again, and I sent her some charts and tapes, told her work on them and see if she could manage the stuff.
This time the universe chose to smile on the Plague. Indeed she could manage the material (the first song she flew to Denver to record was a very difficult little ditty called "The Aesthete", and she had a bad head cold when we got into the studio – despite which she nailed it). And a new nucleus for Thinking Plague came into being.
Furthering its apparent plans for the Plague, the universe acted again, and in 1996 Dave Kerman decided to move back to the states, not to LA, but to Denver. It was obvious to both Dave and me that he would again have to be the TP drummer, since he had been in the band for years but had never been on a record with us – not to mention that he is one of the best (if not the best) avant/progressive rock drummers in the world. And so, with Mark Harris still on reeds, Shane Hotle and a couple other "guest artists" on keyboards, this new Thinking Plague began recording my newest material and finishing some old business, which was accomplished by spring of 1998. Exhausted by the demands of writing, rehearsing, recording and overseeing the whole process, I decided to let the one person I knew we could trust do the mixing – all on his own. I sent the finished tracks to Bob Drake at Studio Midi Pyrenees where he mixed the whole thing in two weeks without any direct input from myself or any other band member. This material, together with two previously mixed pieces from the early 90s LA period, become the "long-awaited" Thinking Plague CD, In Extremis, which was released by Cuneiform Records in September 1998.
With this CD I felt the music achieved a new level of integrity and maturity, and still retained its "rock" impact and experimental edge. The critics and listeners were, and have continued to be, unanimous in their praise. The CD has remained in print and continued to gain in popularity among the stalwarts, as well as the emerging new generation of "avant rock/RIO" fans. Gnosis rates it as the top album of 1998 (Gnosis Modified Mean rating), and apparently it is considered by many to be one of the top progressive music releases on the decade of the 1990's. The Plague had bounced back with a bit of a bang. So, we needed to go play out a little.
Apparition – ephemeral flirtation with the performing art:
In 1999 Thinking Plague appeared at the Progday Festival – only our second live appearance since 1991 - where we created a bit of a furor between the avant and the melodic progressive fans, many of whom fled the room. The fans that remained were riotous in their appreciation, and a flurry of internet buzz and debate ensued, lasting for weeks afterwards. (This was the In Extremis band, except for Shane Hotle, who had never fully rejoined after the mid-90s hibernation. Only one month prior to the festival we brought in a brilliant young player named Matt Mitchell to play keyboards for Progday and beyond. He really only had a few days of rehearsal with the band before we left!). After Progday TP toured the eastern and mid-western United States with shows at the Knitting Factory in New York, Orion Studios in Baltimore, Philadelphia, Lowell, Mass., Chicago, Milwaukee and elsewhere.
In June 2000 the band performed at the North East Art Rock Festival (NEARFest). The show was recorded digitally on 24 tracks by Mike Potter of Orion Studios, and after sitting on the shelf for 3 years, these tracks were finally mixed by the ever-more skilled Bob Drake, resulting in the recently released live CD "Thinking Plague: Upon Both Your Houses" (NEARFest Records 2004). In July the band went to Europe to play in the ancient Roman ruins of the Théatre Antique at the Festival MIMI 2000 in Arles, France, followed by a series of concerts in Italy.
Post-modern anti-nostalgic rebirth:
In the meantime, after years of trying to locate and transfer recordings from 1/2 inch and 1/4 inch reel-to-reel, BETA, VHS and DATs, I finally assembled all the tracks from the first two Thinking Plague LPs in one place in the same format. These LPs had long been out of print, and had been poorly mastered in the first place. We proposed to Cuneiform Records that they should re-release these albums as one CD. Thanks to their great support for the band, and belief in the music, Cuneiform (let us say Steve Feigenbaum) gave the go ahead. But Bob Drake had known for years what was needed to make them sound as they should have, and not surprisingly, he agreed (insisted, really) to re-master the tracks for this release. And so, in September of 2000 "Early Plague Years" was released on Cuneiform in CD form with the kind of crisp and transparent sound they deserved. As a result, a whole new and much larger audience was able to hear and truly appreciate the earliest music of Thinking Plague, as had never been possible in the nearly 20 years since those first limited edition pressings became available.
Descent and transmogrification:
The very morning after Thinking Plague played their last show in Italy in August 2000, Dave Kerman departed for Slovenia, France then Israel, where he resided for the next 3 years, writing and performing music commissioned via Israeli arts funding. He continued to perform with Belgian post-Universe Zero gothic avant rockers Présent and made a CD with the Israeli band, Ahvak (not to mention making another 5Uus CD, Abandonship.)
Meanwhile, I was working on material for a new TP CD, despite the departure of Kerman. In point of fact, I was really looking for a somewhat different drumming style for this new material, maybe more subtly "ethnic" and not quite as "slammin'" as Dave. It so happened that for some time I had been communicating with David Shamrock, former drummer with Sleepytime Gorilla Museum. We emailed a lot about composition and other issues. He sent me CDRs of his new material, and I offered to play some guitar tracks for would later be his Thin Pillow CD. I have to divulge that he didn't end up using maybe even half of what I did. He wanted ALL acoustic guitars and I had done some electric, thinking he'd like it when he heard it. Wrong. He replaced them with his own guitar work (he's so good on acoustic guitar, he doesn't need me!!). Meanwhile, I asked him if he'd be willing to try doing the drums for a new TP record and he said he would.
So, I sent charts and CDRs to David, upon which he studied and practiced for a number of months. Then we flew him to Denver, and spent three days in Mark McCoin's studio (Brave New Audio – where 5uus' "Regarding Purgatories" was made), during which short time David laid down all the drum tracks, and most of the percussion, for the new CD project. It's kind of unfortunate to have to admit, but that was the only actual participation that David ever had in Thinking Plague. He never ONCE rehearsed with the band, and really only met a few of us. He came in as a very specialized, highly-skilled "session drummer", one might say. He was never interested in taking the "show on the road", and nowadays is devoting himself to composing and realizing his own music (obviously, something I can empathize with very easily).
For the rest of this new project it was the same band from 1999-2000, minus Kerman plus Shamrock, that recorded the tracks. Most of the material was written between 1999 and about 2002, but there was one piece that was a never-recorded section of what would have been a "Kingdom Come" suite (refer to track 7 from In Extremis), that I decided to use as a multi-tracked piano piece. Matt Mitchell had been staying at my house during rehearsals, and one day he played the piece on our piano, reading and reducing from the 8 or 10 staff score. I thought it was so great I told him he HAD to do that on the new CD, to which he readily agreed. That is how the series of short piano ensemble pieces called "Marching as to War", numbers 1 – 4, came into being. I also wrote a song, "The Underground Stream", that called for an extended piano improvisation, which is one of Matt's specialties – as we learned so thoroughly on tour with him (we built in a Matt improv to our show, which was completely different night after night – a fine example may be heard on Upon Both Your Houses).
During the time this material was being written and recorded, I happened to attend a saxophone recital by TP reeds player, Mark Harris, at a local university. He opened with a composition of his own, which just blew me away with it's haunting serenity and unusual sax techniques. I thought it should be recorded, and made available. Then it occurred to me that it would fit perfectly in with the flavor of the music that TP was assembling for this new CD. He was perfectly agreeable, and told me that the performance I witnessed had in fact been recorded. He gave me a CD copy of the live recording, and Mark McCoin did a little enhancement using multi-band compression, and added a very slight bit of longer reverb. No other studio tricks were done to the piece, and all the "special effects" one hears were actually generated acoustically by Mark Harris using special techniques on the alto sax. I asked him what it was called, and he said something like…."I don't know…how about 'Least Aether for Saxophone'?" Which it became.
I spent several years writing this new CD, collaborating with a friend for some lyrics, acquiring and learning to use a computer-based digital audio recording system at home (a potentially maddening process), preparing and distributing charts to the players, and organizing and overseeing recording sessions. I had to set up recording sessions at Brave New Audio or in my cellar (which I call Dank Studios) for the rest of the band (half of which had to fly in from "the coasts", as it were).
We flew Deborah Perry in for one big 5-6 day recording session during which she recorded ALL the vocal parts (as many as 4 and sometimes 6 or 8 separate parts), overdubs, doublings, treblings, octaves, and so on. And she did it while in pain due to her back being out. Between recording I was taking her to a local chiropractor so she could continue to function. She is the quintessential "trooper".
When all the tracking was done I took all the material into Brave New Audio and Mark McCoin and I mixed it over a period of about four months. We had as many as 50 to 60 audio tracks at times, plus midi tracks, plus tracks of special effects audio that we created in the studio using all sorts of plug-ins, his huge sample library, and rack effects. He had never dealt with a project so large, and I had never mixed a Thinking Plague record without the intuitive self-assured efficiency of Bob Drake. So, we had to learn a lot as we went. We were trying to achieve a kind of "organic" quasi-acoustic, but still "rock" sound. All in all, I think we did a good job, though some folks who like "rock" elements more than classical, avant garde or ethno-acoustic (is that a word?), might not fully agree.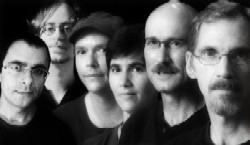 I even struggled over what the CD should be entitled. I knew it had to do with history, and I knew it had to do with cruelty, insanity, hopelessness and renewed hope. The sources of lyric ideas for the CD come largely from the Middle Ages, especially the hypocritical and cruel treatment of so-called heretics in Europe. I tried to draw certain parallels to the current state of affairs in the world (and rather than try to explain it all here, I refer you to the rather in-depth interview at Progressive Ears). One title I came up with was "Histories and Heresies", which I liked until I was reminded that Universe Zero had an album called "Heresie", and that references to heresy were pretty old hat in music. That took the wind out of my sails. But then I arrived at a double or triple entendre; always my favorite kind of thing ­ "A History of Madness". This could refer to how human history has had moments of total insanity, or it could mean that this CD attempts to recount the history of all that human insanity (a gargantuan task indeed). Or it could be about an individual or his family that has a history of insanity ­ or madness. Steve at Cuneiform wasn't too sure about this title at first, because I think he felt it really did sound like it was proposing too much. But ultimately, perhaps as a result of his hearing some tracks ­ but more likely because I can be a stubborn s.o.b., he went along with it. It says what is intended. Thus, after countless hours of work and struggle, the new TP CD, A History of Madness was finally released in Fall 2003.
Regarding Steve and Cuneiform, I have to acknowledge that for this CD he risked more than he likes or generally ever has to, financially and in other ways, so that we could take the time, and have the resources to produce it as it seemed was necessary. I owe him big time for that, and I thank him yet again for placing his faith in the project. Unfortunately, it has not had the same wide success that "In Extremis" has had, but I know that eventually it will be recognized as the better record, perhaps the best TP record. But that remains to be seen.
For the time being, this is where I'll stop. Any more recent developments will be given on the News page of this site, until such time as they may be considered as "historical".
© 2005 Michael Johnson