Thinking Plague Band Members
Mike Johnson: Cofounder, leader, composer/producer and guitarist, Johnson has been performing for over 40 years (he played in his first band at age 13 and first began writing music at age 17. While he studied classical and electronic music in college, he is mainly self-taught in composition and guitar. Despite being a life-long "rock" music player, his true passion is 20th Century symphonic music. Besides music for Thinking Plague, Mike has written music for plays, performance art and films. In addition, Mike has performed and/or recorded with cutting edge avant-rock groups 5UUs, the Science Group, Hail, and Thin Pillow. He has appeared with Bob Drake's Cabinet of Curiosities, and has performed and recorded with "prepared" guitarist/composer Janet Feder, as well as guitarist and leader of Italy's LA1919, Luciano Margorani. Mike has been performing with Colorado's own "avant-Euro-folk-jazz-RIO" ensemble Hamster Theatre since 1996.
Read Mike's interview with Giant Progweed, May 2001
Bob Drake: A founding member of Plague, Drake sings and plays bass, guitar, banjo, drums, fiddle and pretty much anything else he puts his mind to. He was a key member of Plague from its inception in 1982 until 1994, having produced, engineered and performed on the first 3 albums and some of the fourth, In Extremis, which he also mixed and mastered. Bob was vocalist, bassist, guitarist and producer with 5UUs for their "Hunger's Teeth" and "Crisis in Clay" CDs. Along with Susanne Lewis, he founded Hail with whom he made two CDs and an LP. He has recorded and toured with the (EC) Nudes, and has made 2 CDs with the Science Group with Stevan Tickmeyer, Chris Cutler, Fred Frith, Amy Denio and others, playing bass and guitar, singing and producing. In the early 90's while living in LA he engineered projects for many popular artists including Ice Cube, Lily Tomlin, Shirley McLaine, Quincy Jones, and toured the world as live sound mixer with American director Peter Sellars' controversial adaptations of "The Persians" and "The Merchant of Venice". He now resides in Southern France at his home studio where he has engineered and/or mixed scores of albums since 1995. He has released 6 solo CDs as of 2005... Bob's full recording and performing credits are too numerous to list.
More about Bob Drake on the Internet

SynergyDistribution.com

Mark Harris: Master reeds player and flutist, Harris has been a member of Thinking Plague since 1989. He holds a masters degree in music and is on the music faculty at Metropolitan State College of Denver. Mark has been a stalwart of the Colorado avant garde, jazz and pop music scenes for many years, having performed with the Colorado Symphony Orchestra,Ron Miles, Momen Terra, Fred Hess & Boulder Creative Music Ensemble, the Glen Taylor Orchestra, Random Axe, Monkey Siren, Orchestra King Mama, the Bruce Odland Big Band and others. He has performed on innumerable records and CDs, and has backed up artists including Cab Calloway, The Temptations, Roger Waters, George Shearing, Dianne Schuur, Billy Eckstein, Natalie Cole and others. Mark also performs with Hamster Theatre.
David Kerman: Renowned drummer and percussionist, Kerman has been with Thinking Plague since 1990. He is also the composer and leader of internationally acclaimed "avant progressive" band 5UUs, and has been the drummer for the Belgian band Présent since 1993, in which he replaced Universe Zero legend, Daniel Denis. Dave studied recording and electronic music in L.A. where he did extensive studio work for T.V. and radio. He has performed and recorded with Los Angeles avant-rock masters Utotem. In addition has drummed for an array of international cutting edge ensembles, including Blast (Netherlands), Ahvak (Israel), Towering Inferno (UK), and Yugen (Italy). Kerman recently completed a U.S. "living room tour" as drummer for Bob Drake's Cabinet of Curiosities.
Deborah Perry: Deborah has been vocalist for Thinking Plague since 1997. Her voice is often described as sounding clear, pure, innocent, the vulnerable human component in the midst of a musical storm. She is noted for her ability to sing difficult vocal parts that demand the utmost rhythmic and pitch precision.
From 1983 to 1996 Deborah lived in Boulder, Colorado where she studied music at the Naropa Institute. For much of that time she performed as a busker (sidewalk musician) with Dave Willey, singing a variety of not-the-usual-songs - ranging from Richard Thompson to the Roches - on the Boulder Mall and elsewhere. Ironically in 1989 (for reasons which would be difficult to explain at this point), Deborah was actually turned down when she auditioned for the vocalist slot in Thinking Plague. TP vocalist Susanne Lewis had just moved to New York City. (Fortunately, she harbored no grudge when was asked to try again in 1997.) Deborah was a member of the original Hamster Theatre from 1991 to 1995, wherein she wrote some material and played keyboards and other instruments.
Since 1997 Deborah has recorded 3 CDs with Thinking Plague: "In Extremis", "Upon Both Your Houses" (Live at Nearfest), and "A History of Madness". She also sang on 2 CDs by Dave Kerman & 5UUs: Regarding "Purgatories" and "Abandonship". She was recently working on a new project with Dave Willey, et al, called "The Tin Box Papers", which showcases the poetry of Dave's father, the late Dale Willey.
Dave Willey: Master multi-musician and composer, Willey has been with Thinking Plague since 1997, playing bass and occasional accordion. An accomplished pianist, guitarist and drummer, he studied music at the Naropa Institute, and is the main composer, co-founder and leader of Hamster Theatre. Dave has performed with innumerable Colorado bands and artists such as the Denver Gentlemen, Big Foot Torso, Baldo Rex, Jesse Manno, Beth Quist, the Glen Taylor Orchestra, and many others. He has composed scores for dance, was producer and "band" for the CD "Sentimental Bedlam" (2002 Hunk), with the extraordinary singer/song-writer/guitarist Lorna Hunt, and has recorded with French absurdist/experimental ensemble Toupidek Limonade. Recently Dave had been collaborating with the legendary Hugh Hopper (Soft Machine, Hugh Score, et al), and others on a musical homage to his late father, poet Dale Willey. As of 2012, that project has been completed (an album called Immeasurable Currents) as well as a new album with Elaine di Falco and Cedric Vuille called "3 Mice".

There is also an interesting biography about him here.
Matt Mitchell: Pianist/keyboardist – Matt began playing piano at the age of 6, and composing music at age 10. After high school, Matt attended music schools for five years, earning a Master's degree at the Eastman School of Music. During his school years, Matt played a wide variety of music in a wide variety of contexts, including experiences with rock, fusion, hip-hop, salsa, Brazilian, and polka bands, as well as the 'usual' assortment of jazz and classical experiences. Notable teachers from this time period include David Baker, Luke Gillespie, Michael Cain, and Elizabeth DiFelice. Matt has performed and/or recorded with various jazz artists, including Ralph Alessi, Wes Anderson, David Baker, Jimmy Coe, Ravi Coltrane, Peter Epstein, Pookie Johnson, Ayelet Rose Gottlieb, Josh Roseman, and David Young. Since 1999 he has played with both the improvising trios Kaktus and Feigner. Matt currently lives in Philadelphia and performs, composes, assembles, and records music that reflects his continually growing array of interests, musical and otherwise. Matt's webpage: http://www.mattmitchell.us/
David Shamrock: Drummer on Thinking Plague's A History of Madness, is active as a guitarist, keyboardist, and drummer in Oakland, CA's experimental music scene. David grew up in a musical family, his mother a professional violist, his father a tireless pontificator (who loved Stravinsky). Later, David studied music at UC Berkeley. Fretting over his counterpoint homework by day, he donned face paint and rags by night, and played for a variety of subversive artrock bands. Prior to his relationship with Thinking Plague, David played and co-wrote for Oakland's Sleepytime Gorilla Museum. Most recently, he released his CD Thin Pillow, which features Mike Johnson on guitar. Thin Pillow is available on CDBaby. Thin Pillow's instrumental music builds upon a rock framework, but draws influences from the 20th century classical modernists and atonalists, metal, acoustic folk rock, various ethnic folk musics, and birdsong.
Sharon Bradford: The original Thinking Plague vocalist, Sharon studied voice in college, where she met musician and future spouse Mark Bradford. They became friends with Bob Drake when Mark played in several bands with Bob in Illinois during the mid-1970s. In 1978 all three moved to Denver, Colorado, where they met Mike Johnson via a Bobby¹s Music store bulletin board. In 1982 Sharon signed on as vocalist when the first incarnation of Thinking Plague formed. She was lead vocalist on the band's first LP, "A Thinking Plague", recorded in in 1983, for which she wrote the song "The Taste that Lingers On", and created the vocal arrangement for "How to Clean Squid". Currently, Sharon works as a graphic artist/designer, and creates various visual/multi-media art pieces ranging from very "pretty" to very "gothic". She also does studio vocal session work, sings in a vocal group, a choir, and in husband Mark's original gospel band. She is happily ensconced in Denver with three cats, two dogs and one husband.
Mark McCoin: Mark started his career as a drummer and percussionist and has performed with bands including The Bruce Odland Big Band, The Denver Gentlemen, Joanne Shenandoah, and Kenny Vaughn Band. For 3 years he was musical director of Denver's Gamelan Tunas Mekar, and spent time in Bali, Indonesia studying and performing Gamelan music. As an engineer and producer, he has worked with Jnnnzzzn and Thinking Plague on "A History of Madness", Dave Kerman on "Regarding Purgatories", was co-producer of "Terra Infirma" (a weekly NPR radio show), as well as numerous other recording projects. As a composer and sound designer, Mark scored too many TV shows, films, dance performances, Theater, and Multimedia productions. He is currently an audio design Instructor in the Film Studies department at University of Colorado, and runs Brave New Audio, a creative project studio designed for music, sound design, and audio/video post production. Recent awards include "AIFM INDIE" award for work on Mary Youngblood's "Heart of the World" CD, "Native American Music Award" for work on Joanne Shenandoah and Laurence Laughing's "Orenda" CD, and a "Grammy" certificate for percussion work on Mary Youngblood's "Beneath the Raven Moon" CD. In conclusion I would like to say that speculations about jnnzzznnn's unholy relationships with kin-folk and farm animals are non-issues in my opinion. People should really just get behind the music. His personal life is none of your damn business.
Elaine Di Falco: Composer, pianist and vocalist Di Falco has been singing for Thinking Plague since the band's European tour in 2008. She has performed in numerous bands since the age of 15, including the prolific Seatlle-based folk-country rock group the Walkabouts in the late 90s with whom she did two European tours.

Elaine has been a member of Hugh Hopper's Hughscore since the 90s and was an original founding member of Caveman Shoestore with Fred Chalenor in 1991. She has recorded with various artists including Luciano Margorani (LA1919) and Combat Astronomy. Currently she's working on a CD with Cedric Viulle of L'Ensemble Raye and TP's own Dave Willey, and is also a contributor to the Tin Box Papers project.
Kimara Sajn: Classically trained composer and multi-instrumentalist Sajn joined as keyboardist in January of 2009. He is best known for his prolific progressive and avant-garde experimental projects Polyethylene Pet and +1, which apply a Dadaist approach to progressive rock, jazz fusion, pop songs and everything from tape experimentation and ambient electronics to musique concrete. He also runs his own independent record label Precognitive Records out of Seattle, WA.
Robin Chestnut: Robin Chestnut has been playing drums since 1994, when he put down his trumpet to take a vacant spot behind the kit in the junior high jazz band. Since moving to Colorado in 1999 he has played with various unusual musical groups, including Ankylosaurus, The Shift (with Jeremy Averitt former of Hosemobile) and currently with Princess Music and Clouds and Mountains.

He joined Thinking Plague in 2011 after Dave Wiley saw The Shift play in Boulder, Colorado, and felt he'd be a good fit for TP. Robin says he is thrilled to share a drum throne (metaphorically) formerly occupied by David Shamrock (Sleepytime Gorilla Museum - one of Robin's favorite bands).

He holds a PhD in Mathematics and is a private math tutor, who has no cell phone or car (sometimes embarrassing for a working drummer) and somehow manages to adore most individual humans while despising the species as a whole.
The "Mark Fuller Story"
Drummer / percussionist and long time contributor to Thinking Plague, Fuller has appeared on all the Plague albums either as drummer, percussionist or engineer/producer, except the recent live disc, Upon Both Your Houses. He performed as drummer in the live version of the band in 1986-87.
Fuller spent 2 years at the U. of Colorado at Denver studying traditional music performance but quit to move to the SF bay area in order to study Tabla with Zakir Hussain and the late Ustad Alla Rahka. After 3 years of study, Fuller gave up the notion that he could perform with world class Indian musicians, shaved his head and joined the burgeoning punk scene in San Francisco. In 1981 he moved back to Denver and began a long associationwith Thinking Plague founders Bob Drake and Mike Johnson, Ron Miles, Kim Stone (Spyro Gyra), Bruce Odland, Jill Sobule, Mark McCoin and many others.
It would be unfair not to mention his "whoring with his pants on"(to quote Ron Miles), bedecked in tuxedo, playing drums in casual society gigs for the rich upper caste types that litter the new/old money landscape of Denver and surrounding areas. Prominent Savings and Loan criminals, Republican financial pilferers / rigid Christian moralists, Valium and other over-the-counter drug addicts and of course, child molesters, seemed to dominate this seemingly "hi rent" crowd. For the most part, his interaction with these "pillars of society" was confined to his being told to "turn down" or at times being told, "please don't mingle with the guests", "please use the kitchen entrance" etc.
Fortunately he was often heard with Bob Drake in original music projects as well, as the two of them seemed to form the rhythm section of 1/2 the groups in Denver during this time, 1981-1989. That list of groups shall remain nameless but suffice it to say, Bob Drake has many of the recordings from that period should anyone want to know/hear.
Fuller led a band called Big Foot Torso for several years up to 1993 but after showing considerable promise, the project fell apart due to poor choices he made regarding producer, girlfriend and coping with death in the family. By this time he had developed considerable skill with recording techniques and oddly, found himself exhausted after engineering, mastering and / or producing over 50 albums from 1989-1993 with local artists.
For a time, Fuller was unable or unwilling to overcome these obstacles. So in disgust with himself and his so called music career, not to mention terrible health, he devoted himself to racing hi-level amateur mountain bikes, and indeed came close to winning the Colorado state championship in 1996 and '97. During this period he worked little in music save for a number of sound design jobs with the excellent Mark McCoin and of course, his work on tracks later to appear on Thinking Plague¹s "In Extremis". Oddly enough, Mike Johnson provided Fuller with a part time job at the local community college, which helped to facilitate the bike-racing phase.
He left Colorado in 1998 and returned to the West Coast of the down-spiraling USA working at times in Seattle, San Francisco and for 2 years ran a studio in Los Angeles in conjunction with a small film company. It was an ill fated but educational adventure and it left him in debt and homeless for a period of years.
Fortunately, Fuller was able to apply his great recuperative powers, his drive and the wisdom acquired from so much struggle, to stabilize his situation, refocus and recharge his artistic batteries. He spent the years 2002-2005 supervising a home for developmentally disabled adults, whilst paying off debts, and re-committing himself to music and production. Throughout, he has maintained contact with the Colorado cabal of musicians associated with Plague and other Denver music stalwarts.
Currently, Fuller lives 30 minutes North of San Francisco and ekes out a living producing, mixing and mastering. He is currently working on some music of his own, Co-producing an album with former Slash/Jellyfish member Eric Dover and the band Sextus, as well as putting together the archives of music writer Ralph J. Gleason with RJG's son Toby for radio and educational purposes. Fuller has volunteered his services to return as drummer for Thinking Plague¹s next round of live shows tentatively planned for 2006, and hopefully another CD of new music.
Mark Fuller has a web site currently under construction at: www.torsophonic.com
Eric Moon: Born Eric Jacobson, Eric Moon was keyboardist for Thinking Plague in 1986 and 87, providing keyboards for the album Moonsongs as well as some tracks for In This Life. Prior and during that time, he was a member of the amazingly telepathic satirical quasi-improv band Legacy of Sorrow with Bob Drake, Mark Fuller, and jazz trumpeter Ron Miles.
Eric has played piano professionally since high school. He studied for two years at the Eastman school of music in Rochester, where he worked steadily as a jazz musician, including performances with former Coltrane bassist Steve Davis. Returning to Colorado, he worked for the vocal group Rare Silk, including the recording of the album "Black and Blue", co-wrote the song "Bob Goes to the Store" with bassist Kim Stone, which was released as a single and video by the band SpyroGyra. He was pianist with Charlie Pride and Bob Hope at concerts at Hope's golf tournament in Vail.
During and after his stint in Thinking Plague in the late 80s, Moon performed with, and put together showcases for singer/songwriter Jill Sobule. These led to her getting a publishing deal out of Nashville and a subsequent recording deal on MCA. While in Nashville, Eric played and recorded with top studio musicians, including Vince Gill, Flecktone bassist Victor Wooten, and session legends Eddy Bayers and Michael Rhodes. He subsequently played keyboards and arranged the string section for Sobule's first album, produced by Todd Rundgren. Sobule hired Moon to produce her second album with longtime Prince engineer Susan Rodgers in Los Angeles.
Later in Los Angeles, Moon produced and co-wrote a number one hit for Malaysian singer Ella, composed music for cable TV and national television ads, toured Europe as keyboardist for German punk icon Nina Hagen, ran the computers on a series of shows for Icelandic superstar Bjork, designed sounds for Alesis Synthesizers, and much else. Upon returning to Colorado, he did a stint playing piano and accordion with Banjoist Tony Furtado before moving to Wyoming, where he engineered live albums for guitarist Jalan Crossland and Little Luke and The Loose Cannon Band, and played drums in the band Bru Swillaz.
Eric recently spent some time in Austin, where he played with members of George Strait's Ace in the Hole band and The Hal Ketchum band, and recorded piano, accordion and Hammond organ tracks for the upcoming solo release by Asleep at the Wheel vocalist and violinist Hayden Vitera. More recently, he has recorded for Colorado artists Kreg Viesselman, Danny Shaeffer, Rhian Watson and Buckskin Stallion, put together a band for acclaimed Nashville singer/songwriter Jeff Finlin, and is keeping busy with recording work, playing with Tony Black Summit several nights a week at the legendary jazz club Chapultapec in Denver, and performing with a variety of songwriters and bands around the Denver-Boulder region.
For more information on Eric, visit: http://www.ericmoonmusic.com/
Maria Moran: Maria met Mike Johnson in Denver in 1988, when she was 18 years old. She came to him for guitar lessons, which often turned into long discussions and listening sessions revolving around 20th century orchestral music and avant and progressive rock. She was a talented electric guitarist, very intuitive, though without any formal musical training. She had already begun her own somewhat Crimson-esque guitar-based music, which Mike thought had a lot of promise.
After the departure from Thinking Plague of Mark Fuller and Eric Moon in late 1987, the band had a hiatus of several months, and then Bob and Mike sought to reform the band with Shane Hotle on keys and Lawrence Haugseth on keys and clarinet. No one could be found at the time to play drums, and it was assumed that for recording purposes Bob would play both bass and drums. However, they wanted the band to again become a live performance unit. Eventually they decided they'd have an easier time finding a bass player than a drummer. So Mike asked Maria, a guitarist, if she'd be willing to try playing bass for TP. And, thus, she became the main bass player on the CD "In This Life", on which she also did a eerie howling guitar solo on "Fountain of All Tears".
Before the band was ever able to return to the stage, both Bob Drake and Susanne Lewis had departed for the coasts. So, while the new CD was being released and distributed, there effectively was no band to promote it. Later, Bob hooked up with Dave Kerman in L.A., and Dave offered his services as drummer for TP. And Bob reclaimed his bass role from Maria.
She went on to play with other bands, none of which made any mark, and eventually she began to rethink her artistic goals and approach. In the early 90s she took a welding course at the local college (where Mike Johnson works – he was her "advisor"), and began to create metal sculptures. Then she relocated to San Francisco where she reinvented herself as "Zipper Spy" (see below).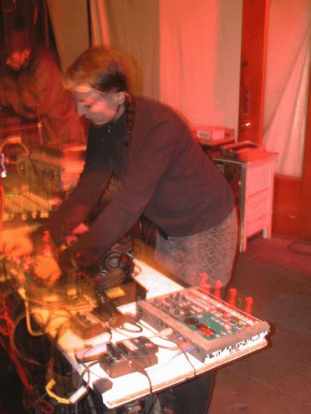 More about Maria Moran on the Internet

Zipper Spy BIO by Jason Ankeny, All Music Guide

Excerpt of review of Zipper Spy "icky beats" (Torture Music Records) by François Couture

Interview with Zipper Spy (Maria)
Mark Bradford: One of the few people to play in bands with Bob Drake BEFORE he ever lived in Colorado and met Mike Johnson, vocalist Mark Bradford was attending university in Illinois when he met Bob and formed a band Popular Egg (among others) that performed various 'progressive' covers. In 1978 the Bradfords (Mark & wife Sharon) and Bob Drake relocated to Denver - apparently somehow thinking that their musical interests could come to fruition in that then cultural backwater. It is for others to judge whether they were right, but they were only in Denver a short time when Mike Johnson saw their collective ad on a music store bulletin board, and gave them a call. This quickly led to Mark, Bob and Mike starting a progressive cover band, "Omnivore"(!), that spent 6 months rehearsing in Mike's basement but never got a gig before imploding.
Between 1978 and the actual founding of Thinking Plague (circa 1982) they all remained good friends, with Bob and Mike helping Mark make demo tapes of his original tunes. In 1982 Bob and Mike asked Sharon Bradford, also a trained vocalist, to sing for the germinal Thinking Plague. During the recording of their first LP, "A Thinking Plague" in 1983", Mike realized that he wanted a male voice for "Thorns of Blue and Red/The War". And while TP was not exactly Mark's preferred progressive genre, he agreed to give it a shot. The song opens with his "schooled" baritone, an unusual sound in "rock" music. Everyone was pleased with the track, but that was to be Mark's only contribution to Plague, other than as spouse and booster.
During the mid-eighties Mark began to record parody songs for radio stations – sports tunes and comedy songs consisting of Mark's humorous lyrics set to songs of any popular genre between the 1950s and the present, depending on the station format. He soon developed this into a viable business, using Mike Johnson as his main session guitarist. His path from there to "radio glory" is told at his website.
Harry Fleishman: From a very early age Harry was inspired and obsessed with music and art, if you can call surf music music, and model cars art. He loved fixing things, even when it meant breaking them first. By the time he was 14, he was playing in bands and doing some recording as a backup guitarist for singers. Through the sixties, Harry played with the Mugwumps and later with the Drifters, the Soul Brothers and other soul bands. For a while during the late '60s he was an in-house songwriter for Criterion Music Co. in Hollywood. After threatening to punch a producer (for intimidating a singer who was recording one of his songs), which he obviously was too big a wimp to actually do, he was fired and Jackson Browne took his place. Really.
Harry started building his first instrument when he was fourteen, but built his first legitimate instrument, an electric upright bass for bowing, in 1969. In the late Seventies he lied his way into Thinking Plague as keyboard player (he played keys in TP, but was never a keys player!). During this tenure he built an ultralight, minimalist bass for Bob Drake, who used it on "Thorns of Blue and Red/The War". This bass morphed into the BASSIC IV, a right-hand tuning bass weighing five pounds
By the mid-seventies he was focusing much of his energy on acoustic guitars and electric basses. Over the next couple of decades he developed the voice of his guitars and began experimenting with new shapes, multi-wood tops, multiple soundholes, asymmetry, and unusual bracings to further refine the unique voice for which he was aiming. The aesthetic elements fell into place as a means of interacting more playfully with the instrument visually, but the quality of the voice was always most important. George Holmes of the Inkspots plays two Bassic-IV basses.
In addition to building custom instruments, Harry designs for several companies, notably Fender Musical Instrument Corp, and spends about half of his time teaching guitarmaking and directing the Luthiers School International in Sebastapol, California. He is currently writing a book on advanced guitar making theories and techniques for luthiers, players, and collectors, and trying to find a second verse for one of his songs.
Fleishman Instruments web site
Bill Pohl: Texas-born musician Bill Pohl began playing guitar in the late-70s at age 10. He developed a keen interest in progressive rock and more esoteric styles during his high school years, and began playing in a series of local bands, which eventually led to the release of a solo album, Solid Earth, and the formation of The Underground Railroad during the mid-90s with longtime musical cohort, Kurt Rongey. That band released two albums and performed at NEARfest, Progday, and numerous other shows in Texas and the Northeast between 1996 and 2012, before Pohl moved to Colorado, where he lives with his high school sweetheart.
A Thinking Plague fan since hearing In This Life, Pohl was thrilled when, years later, Rongey had the opportunity to fill in on keyboards for several TP shows, which led to communication between Johnson and Pohl. Once Pohl had relocated to Colorado, Johnson suggested to him the idea of a two-guitar Thinking Plague format, as a solution to the problem of finding a designated keyboardist. Pohl now finds himself studying the band's music more closely than ever, and playing unusual keyboard parts (not to mention many of Mike's unusual guitar parts) on the guitar.
Bill's Discography

Bill Pohl-Solid Earth
Kurt Rongey-Book in Hand
Kurt Rongey-That Was Propaganda
Last Chapter-The Living Waters (guest guitar synth)
The Underground Railroad-Through and Through
The Underground Railroad-The Origin of Consciousness

The Underground Railroad also recorded a cover of "Wring Out the Ground (Loosely Now)" by Egg
(released on the various artists tribute album "To Canterbury and Beyond" in 1999)