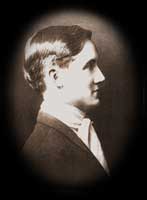 by Michael Bjerkhoel
Between 1915 and 1924, Alexander, The Man Who Knows, astounded theater audiences, performing feats of mind-reading and psychic prediction that defied explanation. A charismatic showman, Alexander reinvented the psychic act and enjoyed a popularity matched by few, if any, of his contemporaries.
At the height of his career, he sold out theaters across the United States and Canada for weeks at a time, making millions from box office receipts, and from the sale of books, crystal balls, and related merchandise. He traveled the world, and counted among his friends such show-business luminaries as Alexander Pantages, John Considine, Rudolph Valentine, and Clara Bow.
He fended with the Great Houdini, and waged open war with anyone who dared try to debunk him. Dressed in exotic robes, wearing a jeweled turban and holding his trademark gazing globe, Alexander dominated the stage for nearly a decade before retiring in 1924, at the age of 43, the richest man in vaudeville.
Yet The Man Who Knows had a dark side as well. He was a perfectionist, obsessed with controlling every aspect of his life and career. Married eleven times, he was a notorious womanizer who cared little about the age or marital status of his conquests.
He was a con-man, arrested numerous times for fraud and blackmail, who once fled the country to avoid prosecution. He drank too much, and while living on the Washigtion coast in the early nineteen-thirties. Local lore strongly suggests he dabbled in bootlegging, some say opium, and possibly the white slave trade. Only one thing is certain - Alexander was a man who lived life by rules of his own making.
Set against the excitement of the vaudeville theater circuit of the teens and twenties, the glamor of early Hollywood, and the rugged beauty of the Pacific north-west, THE MAN WHO KNOWS is a story of magic and mentalism, love and betrayal, wealth and fame. It is the story of a man who blurred the distinction between performer and con-man, who's life was rendered meaningless by his own solipsism. Ultimately, THE MAN WHO KNOWS tells the story of a brilliant performer. A psychic star of the vaudeville stage who could not foresee the likely results of his own selfish actions.